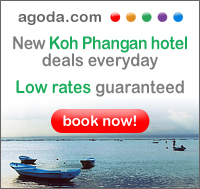 Koh Phangan Bungalows & Accommodation Utopia Resort - Web Links related to Koh Phangan Thailand
---
Here some links to other Koh Phangan related websites about Bungalows & Accommodation, Full Moon Party, Real Estate, Property, Island Guides, PADI Scuba Diving, Island Tours & Safari Elephant Trekking - enjoy :-)


http://thansadet.com


All the cabins are artistically and thoughtfully designed to harmoniously blend in with the beautiful surroundings, incorporating the large granite boulders into the design of the bungalows. If you are coming with a young baby or toddler we also offer a large baby cot / play pen with mosquito net, if you would like this in your room, please let us know. This is truly a paradise where nature lovers and artists from all walks of life can come together, and enjoy the peace and serenity of this unique corner of the world. Mai Pen Rai offers a large variety of bungalows to travelers on different budgets, with more than 40 bungalows on the beach, on the river, and on the rocks. This corner of Than Sadet has a unique, simple rustic feeling, that of the old Koh Phangan and is surrounded by wild jungle behind and a coast line of rugged wildness - ideal for treks and boat trips to the neighbouring beaches on the East coast of Ko Pha-ngan.



http://haadyaodivers.com


PADI's eLearning system is an innovative new program designed to make your PADI diving course with Haad Yao Divers training easier, more efficient and saves you valuable vacation time. From easy dives of the beach to longer dive trips by boat you can experience the tropical underwater world of the Gulf of Thailand. All our Daytrips and Local Trips around Kho Pan-nghan Island are suitable for snorkellers as well. The boatrides to Sailrock, Angthong Marine Park, Koh Tao are shortest from Koh Phangan. The most suitable Sites for Snorkeling are along the Westcoast of Koh Phangan with our Longtailboat.



http://phanganutopia.com


There are poolside sun-loungers and umbrellas to cool off under, and tantalizing cocktails, fruit shakes and local beers are available at the restaurant. Phangan Utopia Resort is located in the north of Koh Phangan Island between Mae Haad Beach and Chaloklum Bay. Utopia Resort is situated on top of the hill at Haad Thong Lang Bay with a fantastic sea view on the Gulf of Thailand. Utopia Resort offers concrete Modern Rooms all with air-con, hot shower, refrigerator, bathtub, cable TV and your personal DVD player. Phangan Utopia Resort also offers an extensive variety of cuisines to suit everyone's taste, excellent service and an idyllic ambience in choices of restaurants & bars.



http://kohphanganelephanttrekking.com


If you come in the early morning or late afternoon you may have the opportunity to meet our elephants while they are having their daily bath. The half hour trek winds up the mountain through the palms and once on top of the mountain there is a wonderful view of Chaloklum bay, the Chinese temple and the mountains and valleys of Koh Phangan; a great photo opportunity. If you book online in advance we guarantee a 10 % discount. Trekking per person is then only 450 Baht. To ride the elephants you sit in a type of saddle or gondola that is mounted on their backs. Where else will you have the opportunity to enjoy a relaxed ride on mountain paths through the palm forests on the back of a gentle elephant?



http://plaa-thansadetresort.com


Fall asleep to the sound of the ocean after a delicious dinner at Plaa's family restaurant. Don't miss spending time in the Thansadet waterfalls themselves we went nearly every day and had the multi-levels of fresh water pools almost completely to ourselves. All of the bungalows have western bathrooms and spacious balconies that look into one of the most beautiful tropical gardens on Koh Phangan Island. The bungalow resort offers a great variety of accommodation with emphasis on style and quality; from simple island style huts to western standard cottages. Plaa's Bungalow Resort also provides the cheapest laundry service with 50 THB per kilo and internet access at 2 THB / minute at Thansadet bay, though the internet signal has been known to come and go.



http://kohphanganreviews.com


There is still bit of the old Pha Ngan vibe in some of the bungalow resorts and you can get far away from the maddening crowd in Had Rin, whilst still being able to pop in for a midnight visit to 7-Eleven. Most of the land along the coastline has been farmed as coconut plantation and the area takes on a dreamy desert island feel with palms leaning in to the calm emerald sea. It has sunset views over Koh Ma and the waters and coral reef that surround it are designated as a National Marine Park as they are so rich in sea life, with turtles and reef sharks (harmless) easily spotted. This is where the local fishermen keep their longtail boats, and the image of all the wonderfully colourful handcrafted boats with their 100 BHP truck engines on the back is a great view to take in while eating in the local restaurants there. The beaches on Koh Pha-Ngan are some of the best in the Gulf of Thailand, and remain more popluar for people wishing to avoid the crowds of Koh Samui.



http://kohphangannews.org


Island News provides un-censored, un-corrupted and uptodate news from this lovely island called Koh Phangan. Koh Phangan Island News Website offers Scuba Diving, PADI Courses & Snorkeling information! Koh Phangan Island News was originally sent into this universe to act as an open portal, a meeting point, a source of exchange, an area to share happiness. A Travel Guide to explore the islands awful truths and hidden secrets! As a natural paradise island in the Southern Gulf of Thailand, Koh Phangan serves as the perfect getaway retreat; relaxing on quiet deserted beaches, snorkelling and learning to dive at the distinctive island of Koh Ma.



http://seaview.thansadet.com


Impressive sea views over the Gulf of Thailand. 15 min steep walk to Thansadet Beach. Perfect for a jungle retreat! Access from the main road is slightly shorter and less treacherous but still a bit of a trek. Arranged in a beautiful cliff side garden, each bungalow has a private deck overlooking the sea; Sea View Bungalow Resort at Thansadet beach truly lives up to its name. Sea View Bungalow Resort at Than Sadet Beach is a great value for those looking to relax and soak up the island atmosphere without a need for easy beach access. Located on top of the hill at Thansadet Beach on the east coast of Koh Phangan Paradise Island.



http://lighthousebungalows.com


In the beginning guests were required to make a tricky climb over the hill to access the resort. Walk along the bridge for about two minutes then you will be at Lighthouse Bungalows. Lighthouse Bungalows offers accommodation and bungalows at affordable prices. The Lighthouse's location offers spectacular views over the Gulf of Thailand where you can relax in your bungalow hammock. If you arrive in Tong sala, the best way to Lighthouse Bungalows is to take a taxi to Haad Rin Beach, which is about 20 minutes away along long winding beautiful roads, approximatley 50 Baht per person.



http://first-residence.com


Whatever it is you are looking for, you can find it at Ko Phangan. The secluded beach and private swimmingpool are only a few seconds away from each house. If you are interested in buying or leasing properties or land, be it for private or commercial use, we are here to assist you. Koh Phangan Island is one of Thailand's top travel destinations, another reason is it's such a fine place to live! Because Phangan Island Property is a fully integrated real estate business, we maintain and grow relationships with the top professionals within the property and development industries.



http://phanganhualaemresort.com


Set in a rough jungle-garden, in the hillside just 10 min. walk from Haad Rin and over-looking the full-moon party-beach, you will find us. From our restaurant situated in the hillside you have a 180 degrees view from the full-moon party-beach on one side trough a wide mountain-area of jungle before there is sea until it meets the horizon out in the Thailand gulf. Min. 5 nights required when booking for full moon-party These bungalows are bigger than cat. A and allows you to have 1-2 extra beds for kids or friends that like to stay together. Beachfront and hillside with spectacular view from the balcony. As a standard all bungalows come with a double bed. With extra beds/mattresses our biggest bungalows may have up to 4-5 persons.



http://beckspaced.com


Irrespective of the size of your business, you need to have a vibrant and business-oriented website that is capable of communicating with your partners and potential customers. Beckspaced, a Small Business Website design company has developed a market tested methodology that has helped more than 500 customers world wide. A verifiable online presence has become indispensable for every company - to lead its competition and to secure a dominant position in the industry. Internet has redefined the way business is transacted and your website is the gateway to these business opportunities. The future of a small business in the Internet economy hinges on the image which is projected from its website.