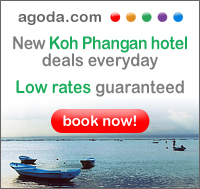 Koh Phangan Bungalows & Accommodation Utopia Resort - Web Links related to Koh Phangan Thailand
---
Here some links to other Koh Phangan related websites about Bungalows & Accommodation, Full Moon Party, Real Estate, Property, Island Guides, PADI Scuba Diving, Island Tours & Safari Elephant Trekking - enjoy :-)


http://lighthousebungalows.com


If you arrive in Tong sala, the best way to Lighthouse Bungalows is to take a taxi to Haad Rin Beach, which is about 20 minutes away along long winding beautiful roads, approximatley 50 Baht per person. The comfort and beauty of the Lighthouse Restaurant offers a range of delicious authentic Thai and European Cuisine. The rooms available start from old style Island Hut to moderm Concrete Apartment with massive balcony and private bathroom. A wooden bridge now connects Lighthouse Bungalows to Haad Rin Beach whilst still retaining the away from it all feel. Only a 10 minute walk to Hadrin Village and Beach - Koh Phangan's host of the famous monthly Full Moon Party!



http://kohphangannews.org


Koh Phangan Island News Website offers Scuba Diving, PADI Courses & Snorkeling information! Koh Pha Ngan still retains its chilled out vibe and rustic desert island living, and virtually all the accommodation in still in friendly, family run bungalow operations. Koh Phangan Island News is a NON-COMMERCIAL and NON-PROFIT organistation just because we think this world would be a much better place without money. The east of Ko Pangan is still largely undeveloped, and it is still not possible to access certain beaches by motorised vehicle. There is a beautiful walk from Had Rin, north to Had Yuan and Had Thian up to Thong Nai Pan and then onto Had Khuat (Bottle Beach). Koh Phangan is located in the Gulf of Siam a little north of Koh Samui. About 75 % of the island is mountains covered by tropical jungle.



http://seaview.thansadet.com


All rooms at Seaview Thansadet Resort are all furnished and very spacious. Sea View Bungalow Resort at Than Sadet Beach is a great value for those looking to relax and soak up the island atmosphere without a need for easy beach access. Seaview Thansadet offers bungalows & accommodation with a fantastic view overlooking the Gulf of Thailand. Fortunately, free transportation is provided to and from Than Sadet beach daily at 10:00 and 16:00 o'clock but you can also take a steep 15 minutes walk through the jungle to reach Thansadet beach by foot. The bungalows are privately situated on the cliffs overlooking the Gulf of Thailand and Than Sadet Beach.



http://thansadet.com


The rooms are bigger and more spacious and have been designed with the traveling spirit in mind for comfort, space and relaxation. If you are interested in renting a jeep during your stay at MaiPenRai Bunglows then please let us know. Price for jeep rental is 1.000 THB per day. Teep's Mai Pen Rai Bungalows - located in a tropical paradise at Than Sadet Beach on Kho Pha-ngan Thailand. For those who come here to enjoy and appreciate the pleasures of Than Sadet, they take away memories that stay in the mind forever. The atmosphere in Thansadet is still simple, rustic, and slightly bohemian, with the emphasis on keeping in touch with the roots of nature around.



http://first-residence.com


Whether you choose to go big or small, you have the option of managing the creation of your gem yourself or you can have the experts at Phangan Island Property manage everything from creating the design to overseeing the construction itself. With the choices of 800 to 1600 square meters, you can opt for a quaint beach home or a luxurious ocean front villa. Many people wish to own land to build a vacation home in Thailand. The German landowner designed this small exclusive residential area with six houses and one swimming pool. Under the serene blue skies of Phangan Island adjacent to the ever so popular island of Samui, Thailand rests West Beach. West Beach is Koh Phangan's newly found treasure.



http://kohphanganelephanttrekking.com


Nowadays machines have taken over the elephant's job of logging and consequently, elephants and their handlers, or mahouts are out of work. Right now, eight elephants live at our trekking facility which is approximately ten thousand square meters with a small lake where the where the elephants bathe daily. The half hour trek winds up the mountain through the palms and once on top of the mountain there is a wonderful view of Chaloklum bay, the Chinese temple and the mountains and valleys of Koh Phangan; a great photo opportunity. In contrast carrying tourists is an easy walk in the park and here they can live for eighty or even one hundred years! Where else will you have the opportunity to enjoy a relaxed ride on mountain paths through the palm forests on the back of a gentle elephant?



http://phanganhualaemresort.com


Simple standard wood, all come with double-bed, mosquito net, fan, toilet and shower (cold), balcony with hammock. Well maintained and cleaned. Beachfront and hillside with spectacular view from the balcony. We are happy to advice you concerning spice and tastes from the Thai-kitchen. Set in a rough jungle-garden, in the hillside just 10 min. walk from Haad Rin and over-looking the full-moon party-beach, you will find us. These bungalows are bigger than cat. A and allows you to have 1-2 extra beds for kids or friends that like to stay together. Beachfront and hillside with spectacular view from the balcony. Simple standard concrete/wood, all come with double bed, mosquito-windows, fan, chairs and table, toilet and shower(cold).



http://beckspaced.com


We understand the cost constraint of the small-medium business and provide a solution that gives your organization the highest ROI for a cost-effective price. The future of a small business in the Internet economy hinges on the image which is projected from its website. As a professional Small Business Website Design Company we understand the value of your time and money. Our goal is to introduce and guide you through the exciting world of the Internet. Our focus is on the integration of programming, design and usability.



http://haadyaodivers.com


Koh Phangan offers a great variety of accommodation options, from simple beach huts to luxury A/C Pool Villas. Run by european management we are commited to western quality and high standards. Opened 1997 Haad Yao Divers was the first Dive-Center on the West-Coast of Koh Phangan and one of the islands pioneers. Haad Yao Divers started as a small operation on Haad Yao Beach with only 1 PADI Instructor and Divemaster but became quickly a professional PADI Resort Dive Center. At Haad Yao Divers we are happy to arrange accommodation for our divers.



http://plaa-thansadetresort.com


It was a true paradise, nothing but relaxation, a great place to get away from it all and one of the best vacations I have ever taken. The bungalow resort offers a great variety of accommodation with emphasis on style and quality; from simple island style huts to western standard cottages. Plaa's Bungalow Resort at Thansadet beach offers two types of bungalow accommodation; there's Rocky Modern and Rocky Standard Bungalows all with spectacular views over Thansadet bay and the Gulf of Thailand. Enjoy the fantastic view and friendly atmosphere at Plaa's Thansadet Resort Kho Phan-ngan! Sure, it's a bit of hike up the steps to get to your bungalow but the privacy, cost with only 500B per night and the breezes to cool you down up on the hill can't be beat.



http://kohphanganreviews.com


If you're looking for things to do and see around Ao Chao Phao, the west coast of Koh Pha Ngan has something for everyone. The beach is not very wide if the tide is in, and the southern section is not great for sunbathing as it's home to Had Rin Pier and debris clutters the beach in places. The beach on Ao Chaloklum is about two and a half kilometres long, with the main village of Chaloklum right in the centre. Apart from the lowlands of Ban Tai and Ban Khaay, the rest of the landscape is formed in rugged granite, with steep hills leading up to lush peaks covered in tropical rainforest. When the full moon party is over and the sun has set on Had Rin you'll be surprised to find how much more Koh Phangan has on offer.



http://phanganutopia.com


The Utopia Modern House Bungalows are newly build and located just next to the swimming pool offering offering amazing views over lush tropical gardens. The accommodation at Phangan Utopia Resort is finished to high standards with a total of 15 constructed rooms and bungalows. Phangan Utopia Resort has 3 Classic Thai Style Bungalows all of which have been newly refurbished. Utopia Resort offers concrete Modern Rooms all with air-con, hot shower, refrigerator, bathtub, cable TV and your personal DVD player. Phangan Utopia Resort also offers an extensive variety of cuisines to suit everyone's taste, excellent service and an idyllic ambience in choices of restaurants & bars.