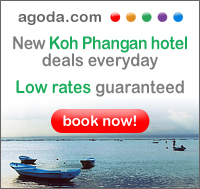 Koh Phangan Bungalows & Accommodation Utopia Resort - Web Links related to Koh Phangan Thailand
---
Here some links to other Koh Phangan related websites about Bungalows & Accommodation, Full Moon Party, Real Estate, Property, Island Guides, PADI Scuba Diving, Island Tours & Safari Elephant Trekking - enjoy :-)


http://thansadet.com


MaiPenRai consists of 40 Bungalows directly at the Beach, on the Rocks or close to Thansadet River. Parts of Thansadet beach and Than Sadet Waterfall due to these royal connections are Koh Phangan National Park land. Mai Pen Rai offers a large variety of bungalows to travelers on different budgets, with a choice of 35 bungalows directly at the beach of Than Sadet Bay. Here you can find a creative space to unwind and enjoy the peace and serenity of Koh Phangans nature. Due to the fast development of Koh Phangan, this really is a one of a kind place where the pace of life is still as it should be, and the feeling of the old Koh Phangan is still present in the atmosphere and feeling of this beach.



http://seaview.thansadet.com


Due to the seclusion of Than Sadet Beach we run our electricity from a generator. Access from the main road is slightly shorter and less treacherous but still a bit of a trek. Seaview Thansadet offers bungalows & accommodation with a fantastic view overlooking the Gulf of Thailand. Fortunately, free transportation is provided to and from Than Sadet beach daily at 10:00 and 16:00 o'clock but you can also take a steep 15 minutes walk through the jungle to reach Thansadet beach by foot. The accommodation at Seaview Bungalow Resort is inexpensive and simple but well sized and very clean.



http://phanganhualaemresort.com


With this view and a quiet morning and throughout the day with only the sound of birds and the waves, we can offer you a menu of different continental breakfast-dishes and some delicious Thai-food. Together we speak or understand Thai, Scandinavian, English and German. We hope to see you soon! On request we also offer groups guests that stay with us to make their own menu for a more private celebration of birthday or other happy events. We serve continental breakfast menu and various Thai-dishes, hot and cold drinks. Our bungalows are of different size. All are either beachfront or inn the hillside with stunning view to the sea on the sunrise side of Haad Rin, Koh Phangan.



http://plaa-thansadetresort.com


Plaa's Bungalow Resort also provides the cheapest laundry service with 50 THB per kilo and internet access at 2 THB / minute at Thansadet bay, though the internet signal has been known to come and go. With some of the highest quality accommodations on Than Sadet beach and a wonderful cliff top terrace restaurant with an extensive selection of well priced cuisine, Plaa's Bungalow Resort is a great choice. Their clean, comfortable bungalows offer a variety of spectacular views through large glass windows. It's one of Ko Pangans most wonderfull places with a unique atmosphere! The cool breeze high above the beach also offers an escape from the tropical heat down at Thansadet beach.



http://haadyaodivers.com


The boatrides to Sailrock, Angthong Marine Park, Koh Tao are shortest from Koh Phangan. All our dive guides are qualified PADI Divemasters or Instructors which are diving in the Gulf of Thailand since many years. The most suitable Sites for Snorkeling are along the Westcoast of Koh Phangan with our Longtailboat. At that time Koh Phangan was famous for its Fullmoon Parties on Haadrin beach but unknown for the beauty of its unspoiled reefs. Today we are a PADI awarded 5 Star Instructor Development Dive Resort with an international team of enthusiastic and highly qualified PADI Instructors and Dive Masters from England, France, Switzerland and Germany.



http://kohphanganreviews.com


The south-east of Koh Phangan is dominated by the mountains that occupy virtually the whole region. When the full moon party is over and the sun has set on Had Rin you'll be surprised to find how much more Koh Phangan has on offer. With just one resort Had Son beach provides the perfect getaway for those seeking idyllic island life. The town has grown to accommodate these visitors and Had Rin has a great variety or restaurants, accommodation and nightlife options. The beach is not very wide if the tide is in, and the southern section is not great for sunbathing as it's home to Had Rin Pier and debris clutters the beach in places.



http://lighthousebungalows.com


The Lighthouse's location offers spectacular views over the Gulf of Thailand where you can relax in your bungalow hammock. Haad Leela is also known as Haad Seekantang and is about 15 minutes walk from Haad Rin town center. The comfort and beauty of the Lighthouse Restaurant offers a range of delicious authentic Thai and European Cuisine in an atmosphere of natural beauty and contemporary luxury. The comfort and beauty of the Lighthouse Restaurant offers a range of delicious authentic Thai and European Cuisine. Only a 10 minute walk to Hadrin Village and Beach - Koh Phangan's host of the famous monthly Full Moon Party!



http://beckspaced.com


Beckspaced, a Small Business Website design company has developed a market tested methodology that has helped more than 500 customers world wide. The business savvy design from Beckspaced.com has propelled its clients to a higher level of revenue and scale. Irrespective of the size of your business, you need to have a vibrant and business-oriented website that is capable of communicating with your partners and potential customers. Whether you are an individual, business, or organization, the Beckspaced Team of developers can help create and customize a website to your particular needs. We understand the cost constraint of the small-medium business and provide a solution that gives your organization the highest ROI for a cost-effective price.



http://first-residence.com


If you are interested in buying or leasing properties or land, be it for private or commercial use, we are here to assist you. The luxury Villas will be constructed with great environmental care unique to Koh Phangan island. Established in 2005, Phangan Island Property reflects the pride of our founders who value high quality service and maintain the kind ethical excellence expected by our clients. We understand your passion, and have done everything possible to make your dreams come true as you've imagined it! This unchartered development offers beach front plots ready to be transformed into your tropical paradise dream home.



http://kohphanganelephanttrekking.com


If you book online in advance we guarantee a 10 % discount. Trekking per person is then only 450 Baht. Come and have a look at our facility. If you are driving east from Thong Sala, the trekking entrance is located approximately two kilometers before Chaloklum. The mahout, who is often the elephant's owner, is with the elephant for decades and is solely responsible for its care. Many mahouts are trying to create new job opportunities for themselves and their elephants by offering elephant rides to eager tourists. To the Thai people, elephants symbolize strength an therefore, they are worshipped in a special way. A lot of artwork, temples and souvenirs are often decorated with elephants. While there you can play with our friendly monkeys or feed 'Champion', our baby elephant. He loves bananas.



http://phanganutopia.com


All of the resort's A/C rooms have western bathrooms, are fully fitted and furnished and have spacious balconies with stunning views over the Gulf of Thailand. The emphasis is on quality and style and every effort has been made to ensure the rooms are comfortable, clean, quiet and a pleasure to be in. Utopia Resort is situated on top of the hill at Haad Thong Lang Bay with a fantastic sea view on the Gulf of Thailand. The Utopia Modern House Bungalows are newly build and located just next to the swimming pool offering offering amazing views over lush tropical gardens. Utopia Resort offers concrete Modern Rooms all with air-con, hot shower, refrigerator, bathtub, cable TV and your personal DVD player.



http://kohphangannews.org


Koh Phangan is a tropical paradise island perfect for investing, whether it be for business or pleasure. In terms of development Koh Pha-Ngan is still way behind Koh Samui and the other main tourist hangouts such as Phuket and Pattaya, which is the main reason why is still attracts many travellers. When the Full Moon Party is over and the sun has set on Had Rin Beach you'll be surprised to find how much more Koh Phangan has on offer. Travel Info about Full Moon Party, Accommodation, Bungalows, Resort & Hotels on Kho Phan-ngan Island. You can party yourself to pieces in Had Rin Beach, watch coral grow from your hammock or you can stay at Than Sadet National Park and check out the giant monitor lizards.