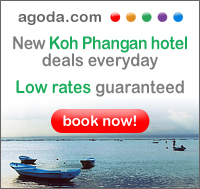 Koh Phangan Bungalows & Accommodation Utopia Resort - Web Links related to Koh Phangan Thailand
---
Here some links to other Koh Phangan related websites about Bungalows & Accommodation, Full Moon Party, Real Estate, Property, Island Guides, PADI Scuba Diving, Island Tours & Safari Elephant Trekking - enjoy :-)


http://phanganlongstay.com


The Island Resort is less than two years old and all the buildings are well maintained, finished to high standards and set amongst beautifully landscaped gardens with picturesque winding streams and water features. We serve everything from traditional Thai dishes to imported steak and pizzas, all cooked to perfection by our professional kitchen staff. We also have a vast range of cocktails and fresh beer on tap at our beachfront bar. Phangan Long Stay Bungalows is a family business, and so you feel like one of the family when you stay. Tantalising cocktails, fruit shakes and imported and local beers are available at the restaurant and at Phangan Long Stay poolside bar, the perfect place to take a pit-stop after a few laps of the pool or watch the moon rise over the bay. Phangan Long Stay prides itself on its modern facilities and high level of service that the resort provides. The swimming pool is one of only a few on Phangan island and is situated next to the restaurant terrace under tall shady palms with uninterrupted views over Ao Chao Phao.



http://phanganhualaemresort.com


Simple standard concrete/wood, all come with double bed, mosquito-windows, fan, chairs and table, toilet and shower(cold). Together we speak or understand Thai, Scandinavian, English and German. We hope to see you soon! From our rocky beach you can swim and do snorkelling. (Equipment can bee borrowed) You will always see a lot of small fish, and even discover some small corrals. Some fishing and BBQ equipment is also available. Simple standard wood, all come with double-bed, mosquito net, fan, toilet and shower (cold), balcony with hammock. Well maintained and cleaned. Beachfront and hillside with spectacular view from the balcony. We also offer you cold drinks, hot drinks, beer and fruit-shakes with fruit we often pick from our own garden.



http://kohphangannews.org


Koh Phangan Island News is a NON-COMMERCIAL and NON-PROFIT organistation just because we think this world would be a much better place without money. Koh Phangan has over 250 resorts to choose from, ranging from the budget 80 Baht per night beach hut without private toilet to luxury air-conditioned accommodation with private swimming pool. Real Estate and Property Guide for Koh Phan-ngan Island in Thailand. When the Full Moon Party is over and the sun has set on Had Rin Beach you'll be surprised to find how much more Koh Phangan has on offer. Koh Phangan Paradise Island is a place where time finally has no meaning at all and after a while you start seeing things in quite a different context.



http://phanganutopia.com


It's the perfect place to hang in a hammock on the balcony, with a scenic seaview and spend lazy time reading or taking naps. Utopia Resort is situated on top of the hill at Haad Thong Lang Bay with a fantastic sea view on the Gulf of Thailand. Although there are many rooms, care has been taken to ensure that the wonderful natural beauty of the area remains and the bungalows have been positioned so as to blend in with the landscape and rich tropical gardens The emphasis is on quality and style and every effort has been made to ensure the rooms are comfortable, clean, quiet and a pleasure to be in. The resort has a wide selection of accommodation available; the cheapest are Classic Thai Style Bungalows with a ceiling fan.



http://beckspaced.com


Internet has redefined the way business is transacted and your website is the gateway to these business opportunities. We understand the cost constraint of the small-medium business and provide a solution that gives your organization the highest ROI for a cost-effective price. We cover all aspects from registering your domain name to setting up your website and hosting it for you. The future of a small business in the Internet economy hinges on the image which is projected from its website. At Beckspaced.com, we perceive our clients as potential partners and work towards a long lasting business relationship and are a part of their growth effort.



http://kohphanganreviews.com


The beaches on Koh Pha-Ngan are some of the best in the Gulf of Thailand, and remain more popluar for people wishing to avoid the crowds of Koh Samui. Ao Chao Phao is over half a kilometre long and has a good vibe with a several bars, including the acclaimed Village Green with hearty portions of tasty European and Thai food, cool tunes and an upstairs bar with sunset views. There is still bit of the old Pha Ngan vibe in some of the bungalow resorts and you can get far away from the maddening crowd in Had Rin, whilst still being able to pop in for a midnight visit to 7-Eleven. The sunset views can sometimes be spectacular, with views up and down the coastline and out to Koh Samui. The small island of Koh Pha-Ngan has a surprising amount of attractions and features worth visiting for all types of tourist.



http://haadyaodivers.com


We are proud to offer the PADI Instructor Development Course (IDC) under the direction of awarded Platinum Course Director Camille Lemmens. The local divesites along the westcoast of the island are in distances of maximum 30 minutes by Longtailboat from our dive-center. Run by european management we are commited to western quality and high standards. Opened 1997 Haad Yao Divers was the first Dive-Center on the West-Coast of Koh Phangan and one of the islands pioneers. The most suitable Sites for Snorkeling are along the Westcoast of Koh Phangan with our Longtailboat.



http://first-residence.com


If you have ever thought about investing in heaven, Koh Phangan is as close as you can get on earth. Whether you choose to go big or small, you have the option of managing the creation of your gem yourself or you can have the experts at Phangan Island Property manage everything from creating the design to overseeing the construction itself. The secluded beach and private swimmingpool are only a few seconds away from each house. Koh Phangan Island is one of Thailand's top travel destinations, another reason is it's such a fine place to live! With the choices of 800 to 1600 square meters, you can opt for a quaint beach home or a luxurious ocean front villa.



http://thansadet.com


This is truly a paradise where nature lovers and artists from all walks of life can come together, and enjoy the peace and serenity of this unique corner of the world. Here you can find a creative space to unwind and enjoy the peace and serenity of Koh Phangans nature. MaiPenRai consists of 40 Bungalows directly at the Beach, on the Rocks or close to Thansadet River. If you are coming with a young baby or toddler we also offer a large baby cot / play pen with mosquito net, if you would like this in your room, please let us know. The rooms themselves have more special touches with the sense of the traveling spirit always in mind, making your Mai Pen Rai Experience something even more special and memorable.



http://plaa-thansadetresort.com


Beach goers will appreciate the option to traverse a more stable path to the beach in addition to the treacherous rocky climb used to access other guesthouses at Than Sadet beach. Their clean, comfortable bungalows offer a variety of spectacular views through large glass windows. Don't miss spending time in the Thansadet waterfalls themselves we went nearly every day and had the multi-levels of fresh water pools almost completely to ourselves. Plaa Thansadet Resort offers accommodation and bungalows at affordable prices. Stay in nice thai style bungalows with shower and fan all at rockbottom prices.



http://kohphanganelephanttrekking.com


Where else will you have the opportunity to enjoy a relaxed ride on mountain paths through the palm forests on the back of a gentle elephant? Come and have a look at our facility. If you are driving east from Thong Sala, the trekking entrance is located approximately two kilometers before Chaloklum. In the past, elephants worked in logging camps in the rain forests of northern Thailand. Our facility was designed to meet the special needs of our precious pachyderms. They even receive a yearly check-up from a government appointed veterinarian. Trekkings are booked daily from 10:00 am to 3:00 pm including Sundays.



http://pacthailand.org


An ideal destination for a stressed veterinarian looking for a break! Our premises are surrounded by a high wall with a large gate for entry / exit, and PAC currently has 8 resident dogs and 3 resident cats. We teach about respect for animals, and understanding of dogs, cats and other animals, as well as pride in the Thai dog. It has been gratefully embraced by the local residents of the island, as there was no option to obtain treatment unless the animal was brought to the adjacent island which often was not possible. PAC is located 300 metres approximately from Koh Phan Gan hospital.



http://lighthousebungalows.com


There is still bit of the old Phangan vibe in some of the bungalow resorts and you can get far away from the maddening crowd in Had Rin, whilst still being able to pop in for a midnight visit to 7-Eleven. After Paradise you should come to some steps or a road which takes you towards Leela Beach and Coco Hut Village. The Lighthouse's location offers spectacular views over the Gulf of Thailand where you can relax in your bungalow hammock. To walk from Haadrin to Lighthouse bungalows takes about 15 minutes. From Chicken Corner, which is in the centre of Haad Rin, walk along towards Paradise bungalows. Walk along the bridge for about two minutes then you will be at Lighthouse Bungalows.



http://seaview.thansadet.com


A tricky 400m climb from the north end of the beach leads travelers to the beautifully lush grounds of Seaview Bungalow Resort at Thansadet beach. Ko Pangan Thansadet is well known for its river and waterfall which meander down the mountain side through the dense jungle. Due to the seclusion of Than Sadet Beach we run our electricity from a generator. Let our friendly service and relaxed atmosphere present you a truly enjoyable memory. The bungalow resort itself is based on top of the mountain on the northern end of Thansadet bay.